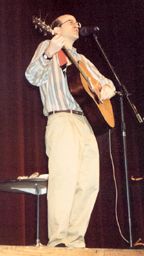 photo © 1999 Lauren Davis
Lesser performs during the keynote presentation for a district-wide in-service for Cherry Creek School District's K-12 teachers in Denver.
CONTACT INFO:
www.math.utep.edu/Faculty/lesser/
ABOUT THE MATHEMUSICIAN:  To support his mission to motivate learning mathematics/statistics, Professor Lesser integrates two great loves – math and music!  An award-winning songwriter in general songwriting contests, Lesser has also won awards for educational songs and song videos in recent national contests (ASA, National Museum of Mathematics, CAUSE, QL-SIGMAA) and a video of songs was shown at Bridges 2014.  His songs have yielded statistically significant learning gains in an NSF-funded randomized experiment, helped land a new NSF grant to write interactive statistics education songs, and have led to plenary presentations for national audiences ranging from mathematics teachers (e.g., an SRO audience of 800+ at the opening plenary of the 2009 NCTM conference in Nashville) to mathematicians (e.g., opening banquet at 2008 MAA summer meeting) to statisticians (e.g., 2013 USCOTS banquet).
         Lesser's outreach has been featured in print media (e.g., Australia's largest newspaper), institutional media (e.g., http://pub.lucidpress.com/cos_newsletter_summer_2015/#IgnL7vVPurK9; or closing story of newscast), and TV and newstalk radio from El Paso to Jamaica!
     Lesser has internationally published 60+ math/stat lyrics, some of the first juried comprehensive articles (in Mathematics Teacher, Teaching Statistics, EJSME, J. of Mathematics and the Arts, and J. of Mathematics Education) on using songs or guitar in math/statistics class, and his newest NSF grant involves the creation of interactive songs to be assessed for effectiveness in helping students learn introductory statistics.
    As the Mathemusician (some say "the Weird Al Yankovic of math/statistics education"), Lesser incorporates guitar in interactive classes and keynotes, facilitating explorations and performing songs spanning content such as infinity, pi, problem solving, graphing functions, as well as worldly contexts such as the lottery! 
LESSER'S "PROFESSOR BIO": see paragraph at end of http://www.math.utep.edu/Faculty/lesser/